EVENTS & TRAINING COURSES
All companies based on Sealand and West Chester Employment Park are entitled to attend one of the many training courses that the West Chester Commercial BID run throughout the year. The courses are free of charge to any employee who wishes to attend, as they are all funded and delivered through the BID. Businesses must be situated in the West Chester Commercial BID area to be eligible.
Events
The West Chester Commercial BID hosts a number of events and networking sessions throughout the year. For more information on any events, please get in touch with the West Chester Commercial BID Team on 01606 723175 or email [email protected].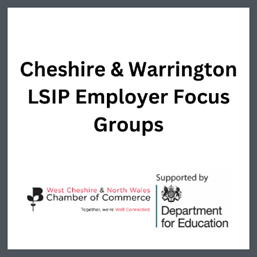 Your chance to input into the: Cheshire & Warrington Local Skills Improvement Plan (LSIP) Low Carbon/Green Skills Focus Group
Join us for an online session: Thursday 27 April 2023 1.30pm – 3:00pmWhat is an LSIP: LSIPs were introduced as mechanism for giving employers a stronger voice in shaping local skills provision.
West Cheshire & North Wales Chamber

 along with other Chambers in Cheshire and Warrington, are supporting South Cheshire Chamber of Commerce, the Employer Representative Body for the LSIP.

The aim is to collaborate and consult with the business community to produce a plan that sets out the current and future skills needs for the sub region.
The plan will identify a set of key priorities and actions to bring about the changes required to help individuals develop their skills, improve their prospects and boost the local economy.

The 

Department for Education (DfE) 

are currently funding 38 LSIPs in the UK, including Cheshire & Warrington.
Focus Groups are being held throughout the area to listen to the voice of employers about what skills they need/where the gaps are in current provision, and how these skills should be delivered.
To book your place email: [email protected](If you have any questions, please don't hesitate to make contact we would be very happy to discuss this further).
Training Courses
For more information on what courses are available and when, please email our BID Co-ordinator on [email protected].